Go To Page: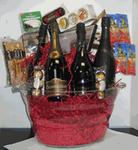 The Quatro Vino
$245
Our top of the line Wine Basket, The Quatro Vino contains 4 sparkling wines and more. Greg Norman 750 ml Freixenet Brut 750 ml Roederer.....


---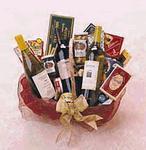 The Thanksgiving Trio - Wine Basket
$148
Your recipient will be overjoyed with the quantity and quality of gourmet foods and delicacies. 3- boutique wines are hand-picked to c.....


---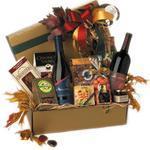 California Thanksgiving - Wine Basket
$148
The perfect Thanksgiving gift packed in a festive gold box and pretty enough to give all year long. Featuring: A Californian Zinfandel .....


---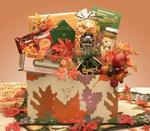 Fall Snacks Gift Basket
$49.99
9.5 oz assorted chocolates Brent & Sams Chocolate Chip Cookies 8 oz Gourmet pepper crackers Gourmet Treats caramels 3.5 oz 3 oz Cru.....


---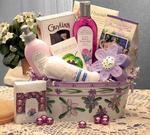 For the Hostess - Thanksgiving Spa Basket
$69.99
Thank the hostess or the lad of the house for the wonderful thanksgiving spread! A beautiful hand painted lavender bath accessory hold.....


---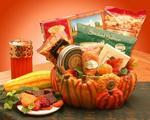 Grateful Harvest Gourmet Gift Bowl - Out of Stock
$74.99
12" Diameter Hand painted Harvest Bowl Dried asst. Mixed Fruit 2 oz Tomato Basil Cheese box Parmesan Foccacia Crisps 4 oz 2 oz.....


---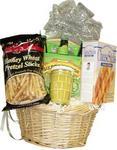 Thanksgiving Beer Basket
$75
Curl up on the couch with this Beer basket and enjoy the game! Perfect Featuring: Domestic beer micro brew 6 bottles. Brad's honey whea.....


---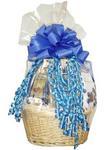 Thanksgiving Chocolate Mountain
$100.95
Have a better way to say Happy Thanksgiving? For the chocolate lover, who will not be able to resist this temptation! Featuring Deluxe .....


---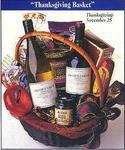 Thanksgiving Wine Basket
$120
An irresistible 2-bottle Wine Basket Includes all kinds of goodies to serve before the big meal. Featuring Jacob's Creek delicious wine.....


---